If you've got a bedroom so tiny that you feel claustrophobic in a small space, don't worry. There are ways of making it appear larger so that you have more room to walk around the room without banging into anything. Here are a few of those ways which can help enlarge your room:
Use mirrors



Mirrors are great for not just reflecting light and openness into a room but also giving it a sense of space. You can use a large mirror in your room across a window so that it brings in more light and gives the room an airy appearance.
Alternatively, you can opt for mirrored closet doors. This will make your bedroom look double its size. So, get mirrors put onto your doors from floor to ceiling and all across your wall.
Paint your walls in light colors



This is a great idea for small spaces as it gives an illusion of space. Remember to use the same color on the walls and ceiling. If your walls and ceiling are off the same color, you can't tell where the room starts and ends, which, according to Southern Home Services LLC, gives it a larger dimension of space.
Sit on armless furniture



Such furniture gives an empty space to your bedroom. So, invest in slipper chairs and sofa.
Go in for pendant lighting



Bulky lamps occupy too much space in a small bedroom, so ditch them for hanging pendant lighting. This space-saving idea will give you more focused lighting while also providing task lighting on either side of the bed.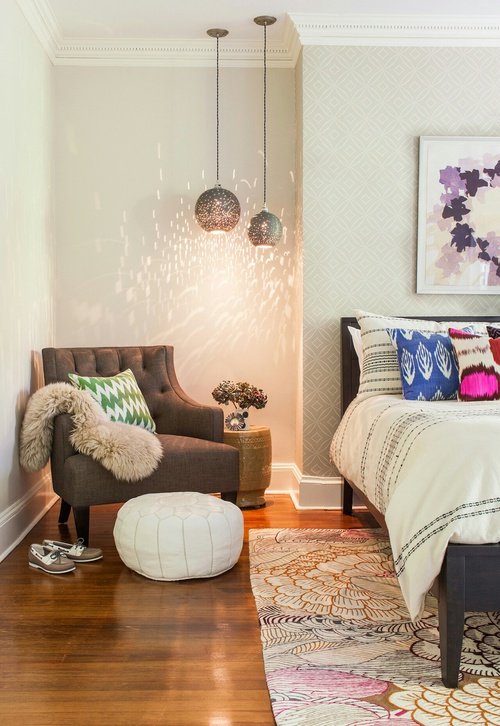 How about inbuilt shelves?



Do away with that nightstand that's taking up so much floor space. Instead, have shelves built into the wall that not only gives you maximum storage space but a lot of floor space too. However, ensure that you don't go further into the wall than a foot. These shelves can be good bedside tables and do away with any need for more furniture. If you nestle your bed in the midst of these shelves, you can actually have a lot more floor space than you thought possible. And here's a tip: Have your shelves go all the way up to the ceiling so that you develop an illusion of height.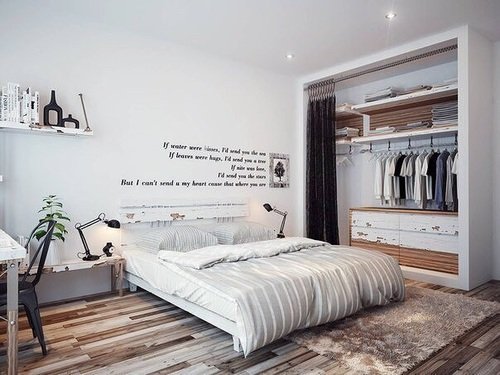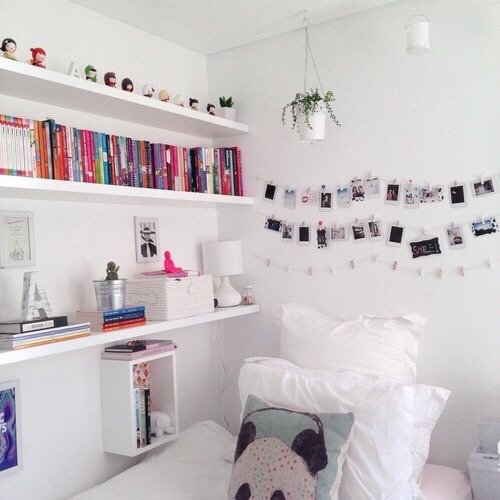 Install a day bed



With a daybed, your bedroom becomes more of a small sitting room rather than a tiny bedroom with a large bed. Daybeds can also have a lot of storage space below, so having one means you kill two birds with one stone.