What's more fun than a pink kitchen? If you're crazy about the color, good news—it's totally okay to go bold and embrace this peppy hue in your cooking space. What's wonderful about pink is that there are so many shades to choose from, so even if you don't feel like taking a major color risk, a lighter variant will still make your place look fabulous. Read on for 25 ways to use color in your home, along with tips from designers.



Funky Fridge
Many homeowners have decided to add some pizzazz to their kitchen in the form of a pink fridge. Retro-looking fridges add lots of character to even the most simple spaces. If you're looking for a pop, invest in a bubblegum pink Smeg fridge. I think pink in a kitchen elicits an immediate sense of joy. Hang some accompanying pink wall art for some added flair.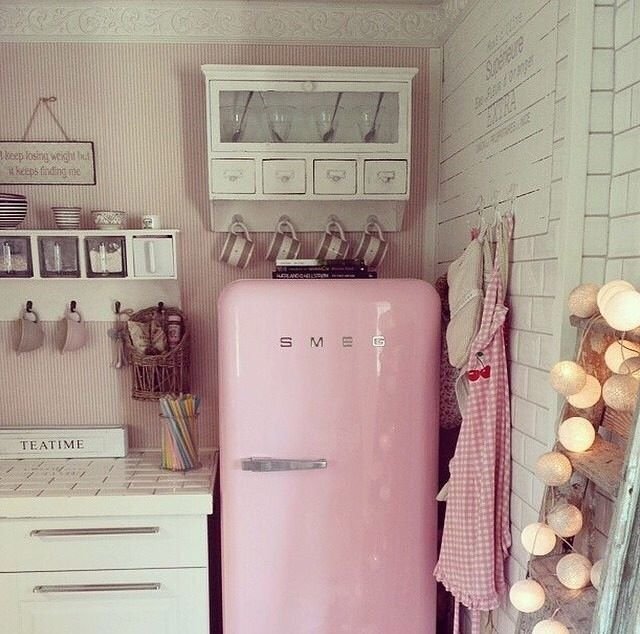 Neutral Touches
If you want to take things to the next level, don't just buy a pink fridge—paint your cabinets pink, too. This kitchen skillfully mixes different shades of hue. And note that light pink can really be used as a neutral in many cases. I personally gravitate more toward very light to dusty pinks, so it functions more as a neutral with a personality that can help bring character to the kitchen.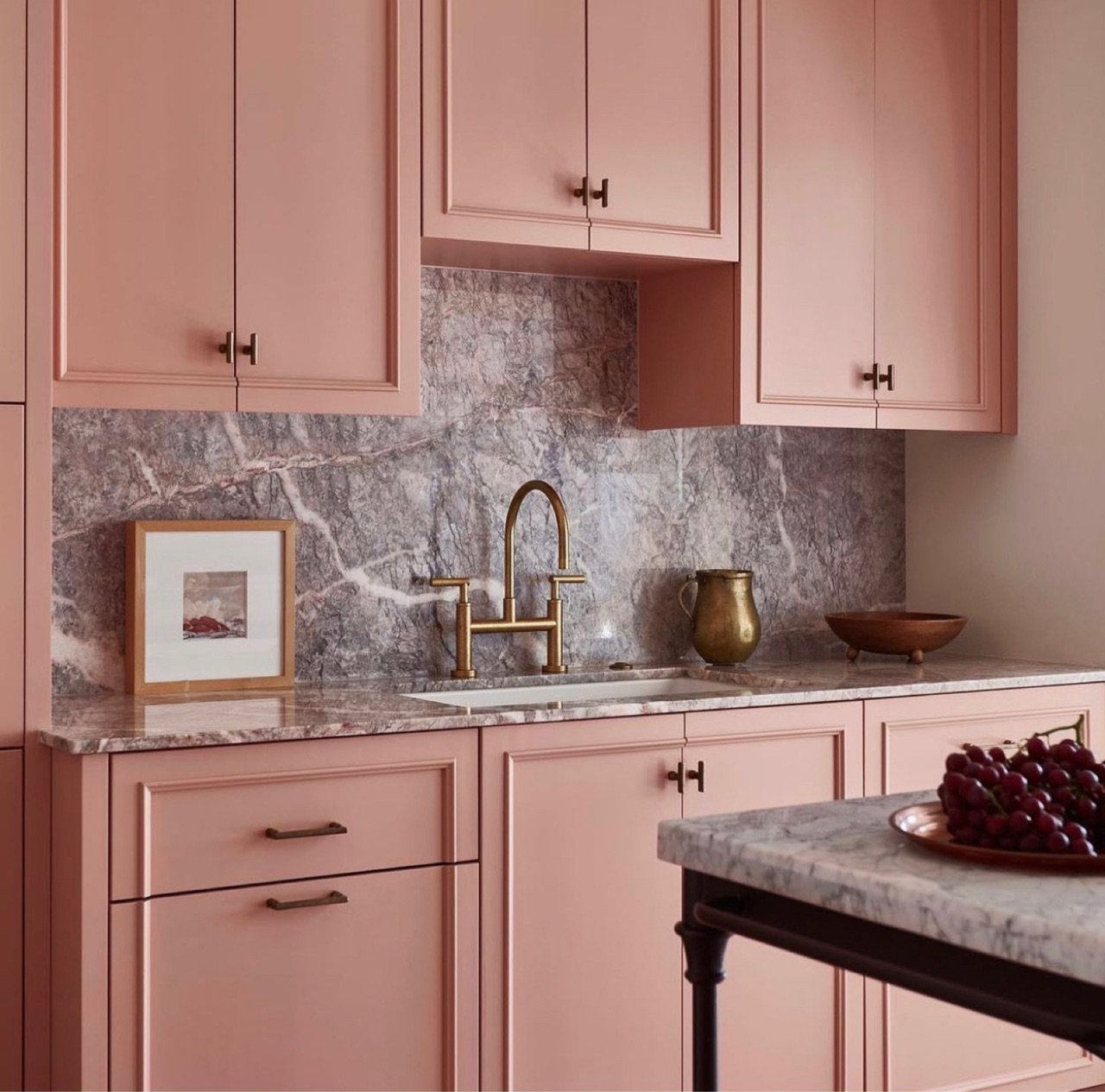 Wall Power
Have fun with the wallpaper! Pink and green always pair wonderfully together, and this pattern incorporates both hues. Of course, another retro pink fridge really seals the deal.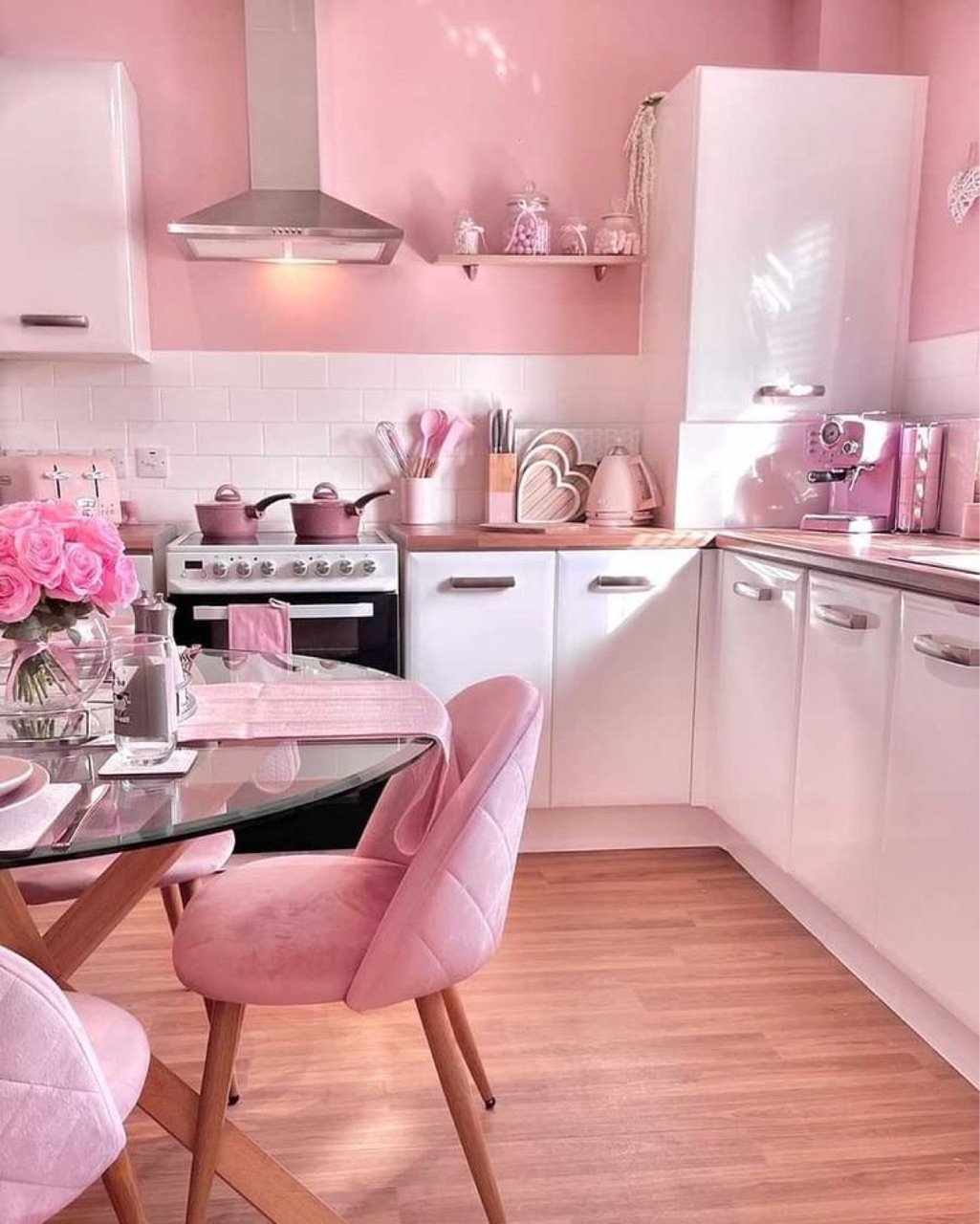 Chic Kettle
Make everyday meal prep more fun by upgrading your appliances and opting for some pretty pink styles. Who says a pink toaster and kettle are too extra?




Special Spoons
Utensils also deserve a little love. Purchase a matching pink set and then find a clever way to display all of your tools, like the hanging system we see above.
Island Time
A pop of color will quickly add pep to even the most basic wooden island. If you don't wish to paint your walls but are feeling crafty, this is an excellent way to showcase your love for the color.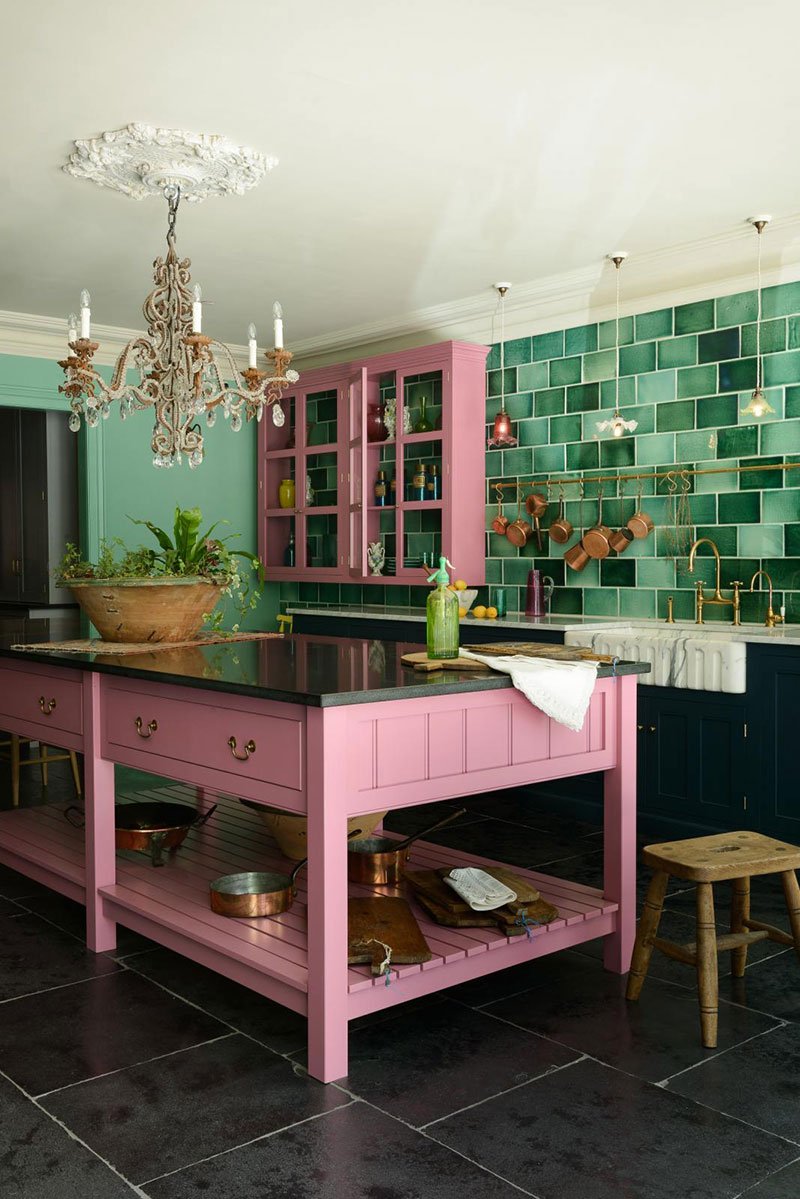 Full Force
How much pink is too much pink? For this homeowner, the limit doesn't exist. A pink table, pink cabinetry, and pink appliances all shine in this cheery kitchen.




Cute Curtain
Your kitchen blinds don't need to be boring. Hang pink curtains that will allow your space to shine even when it's dark out. A pink rug and shelving unit also look fabulous in this space. A little goes a long way—a patterned rug or runner, an accent wall, a table, or chairs in your breakfast nook, or a great piece of art. These are all easy ways to inject pink that are also low risk—if you ever tire of the color, you can easily change your rug or put in another piece of artwork without renovating your entire kitchen.
Peppy Pop
Paint the area under your kitchen bar if you're looking to add an unexpected pop of color to your space. We also love the idea of coating a plain white fridge with some colorful contact paper.




Simple Upgrade
Once again, we see how light pink cabinets can add warmth to a space without being too overpowering. If you're less crazy about hot pink but still want to give your kitchen a sweet makeover, take a cue from the space above.
Best of Both Worlds
Not willing to commit to just one color? Pick an accent that pairs wonderfully with pink and embraces the best of both worlds—blue, green, and mint are all foolproof choices.
Charming Chairs
Don't forget about your seating! Bright pink chairs will make you smile every time you sit down to have a cup of coffee—and they'll also camouflage stains quite well.
Bright White Accents
Pink and white also make for a winning combo. Whether you choose to add subway tile or opt for marble accents, you can't go wrong.
Floral Fanatic
Love florals? Wallpaper with a detailed flower design will look right at home in an all-pink kitchen. Don't forget to add a pink pan to the stove top, either!
Glittery Gold
Gold hardware also looks stunning with pink, if you're looking to go in a more sleek direction. These pulls complement the gold chevron backsplash wonderfully.
Feeling Hot
Make a statement with neon. Hot pink and turquoise are an eclectic pair that will bring a major wow factor to your cooking space. Really, there's no need to be shy! There are so many ways to bring this color to life, but don't be afraid to be bold. The safer way to play with pink in the kitchen might be to use a muted tone, which is wonderful and can serve a space well. But we also urge you to consider bold pops of magenta, hot pink, or deeper pinks that will really enrich the kitchen.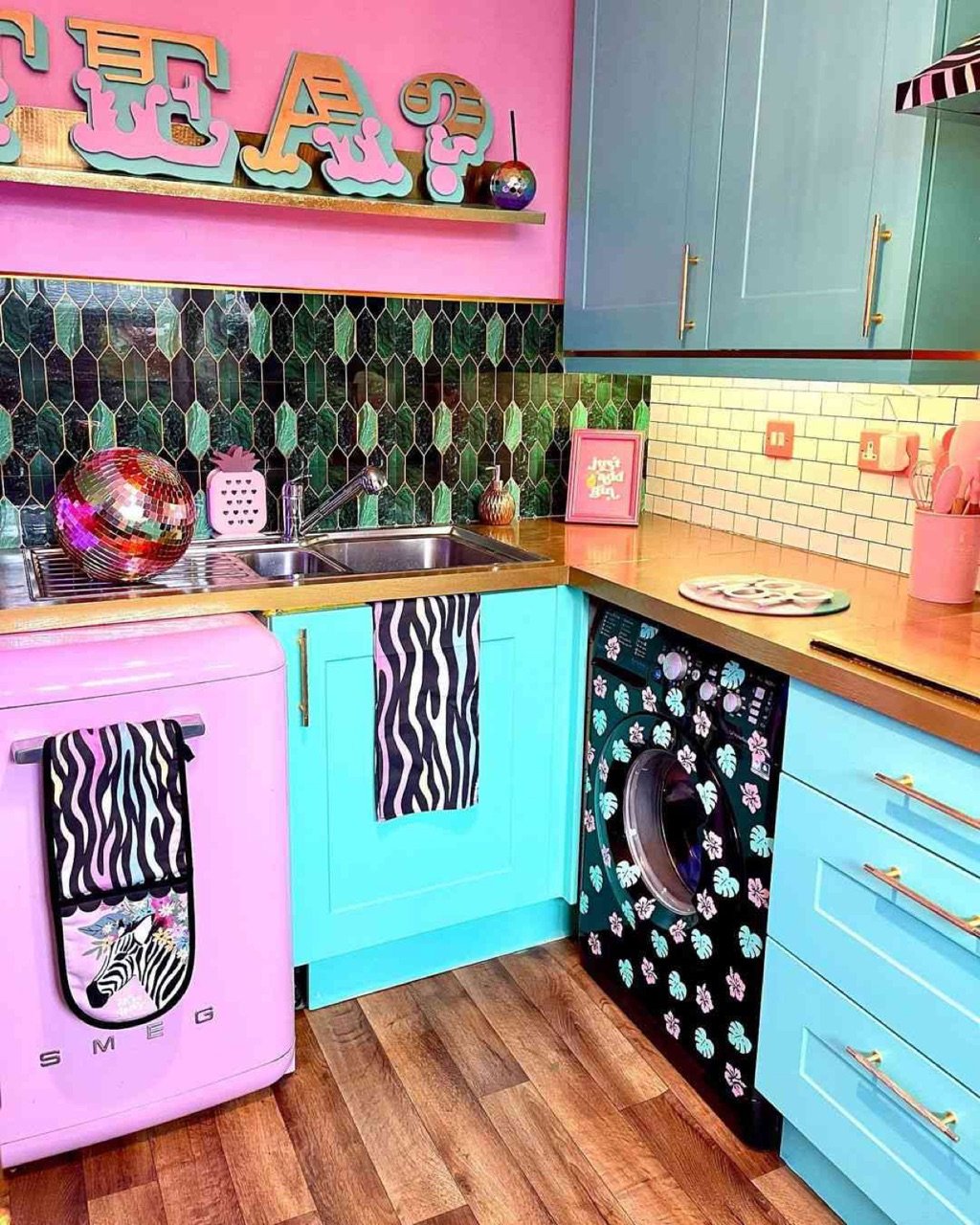 Nice and Natural
Those who love natural touches will find that pink looks fantastic with wood tones, too. Set out your favorite cutting boards and go natural with woven chairs.
Mix and Match
If your kitchen offers open shelving, make it look extra stunning by painting it in a hue that will bring you joy. The pink paint color used in this space pairs with the standing mixer quite perfectly!
Airy Oasis
Pink kitchens can be designed to look minimalist, too. Don't hesitate to keep things nice and airy by opting to go without overhead cabinets and opting for open shelving instead.
Tile in Style
If you own your home, installing tile in a pink hue can be a great way to customize your kitchen. If you rent, you can still take part in the fun—plenty of stick-on tile offerings exist, too!