Beige Interior Design might not sound like the most exciting to you, but there's more to it than just uninteresting interiors. Often considered a plain, dutiful hue, too often used as a 'default' for walls, recent trends have proved that beige can be surprisingly versatile.
Pair it with darker shades to set the tone for an elegant space, and beige comes in a surprising number of colours, from deep, rich hues to vibrant, playful shades. Use it for furniture or structural material to add an earthy, warm feel to a room. Infinitely subtle beige can also help elevate schemes to create drama.
Plus, it is a colour that can be adapted to all kinds of homes, from sleek modern spaces to wild, eclectic interiors. To start your journey with us of embracing beige in your home, explore these expert ideas from professionals.



Also check: Lovely Home Design Ideas in Pink 
HOW DO YOU DECORATE WITH BEIGE?
Beige is used as a term to cover a significant range of hues, from nearly brown to very pale cream. Beige can have warm yellow undertones or pink undertones, or sometimes even be nearly grey.
The colour has a calm, evoking quality and, as mentioned, almost every colour goes with beige. Layering this hue creates a soft look; as though walking into a room made of cashmere. When paired with natural materials, it creates a cocooning atmosphere. Alternatively, it works perfectly with bright white trim, creating a crisp interior.
1. CHOOSE THE RIGHT UNDERTONE
One thing to keep in mind is the paint undertone you choose for beige, as when choosing neutrals, these small variations can make a big difference to your space. Beige tends to be on the warmer side of the spectrum, but the difference between a beige with yellow and red undertones can mean the difference between a modern beige or a slightly-dated magnolia tone.
A warm beige can add a little warmth but remain firmly modern, while pale beige is a great alternative to bright white in modern spaces.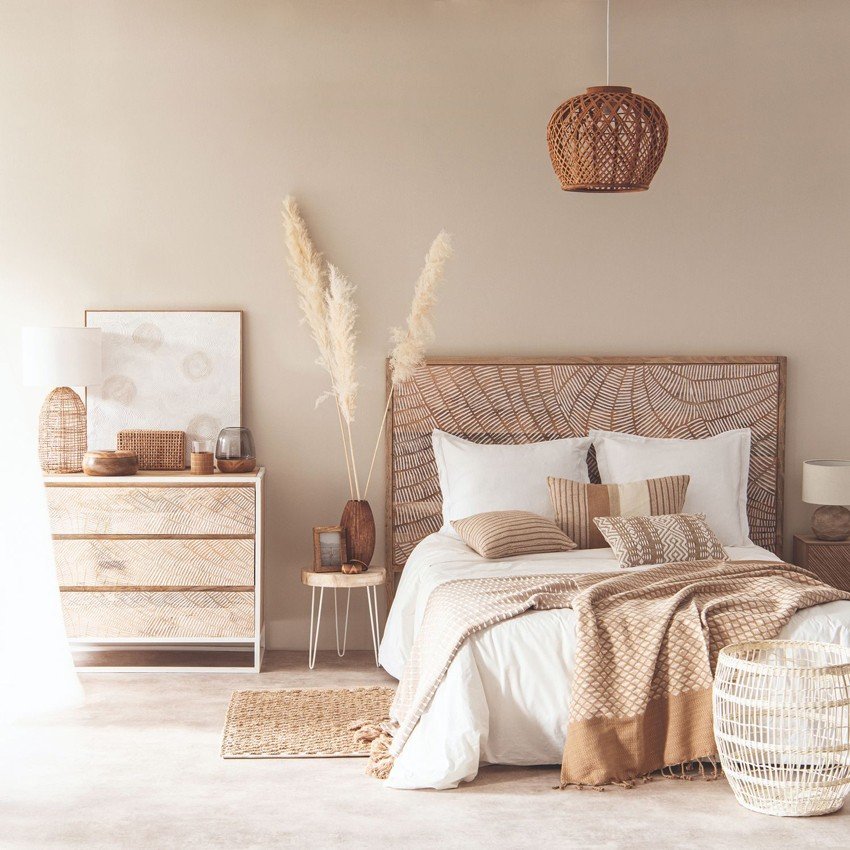 2. INTRODUCE BEIGE IN SOFT FURNISHINGS



One way of decorating with neutrals like beige is by using it in furnishings – thin cushions, sofa covering, bedding, or even curtains. Using this hue will give the room depth, and even provide the perfect foil for other colours and textures to emerge. It's a traditional meets eclectic style and can help lift the scheme if it feels too flat and drab.
Pared-back and neutral textures are the perfect backdrops to a beige-toned space. Consider bringing in pale wood, rattan, plenty of soft white linen, sleek furniture with a mid-century twist, and monochrome lighting and accessories to complete the look.
3. PAIR IT WITH BRIGHT COLOURS FOR AN EYE-CATCHING LOOK
While you might see beige most of used in an all-neutral scheme, it's a colour that can really come alive when paired with bolder hues. Bringing in contrast when using beige helps to mitigate the scheme from looking too 'muddy'.
So what goes well with beige? Warm, yellowy beige look particularly nice with teals and turquoise. A true red will look vivid and elegant next to a darker warm beige. Pink and beige also look lovely, no matter the undertones. The contrast will give the space character, and energize its vibe.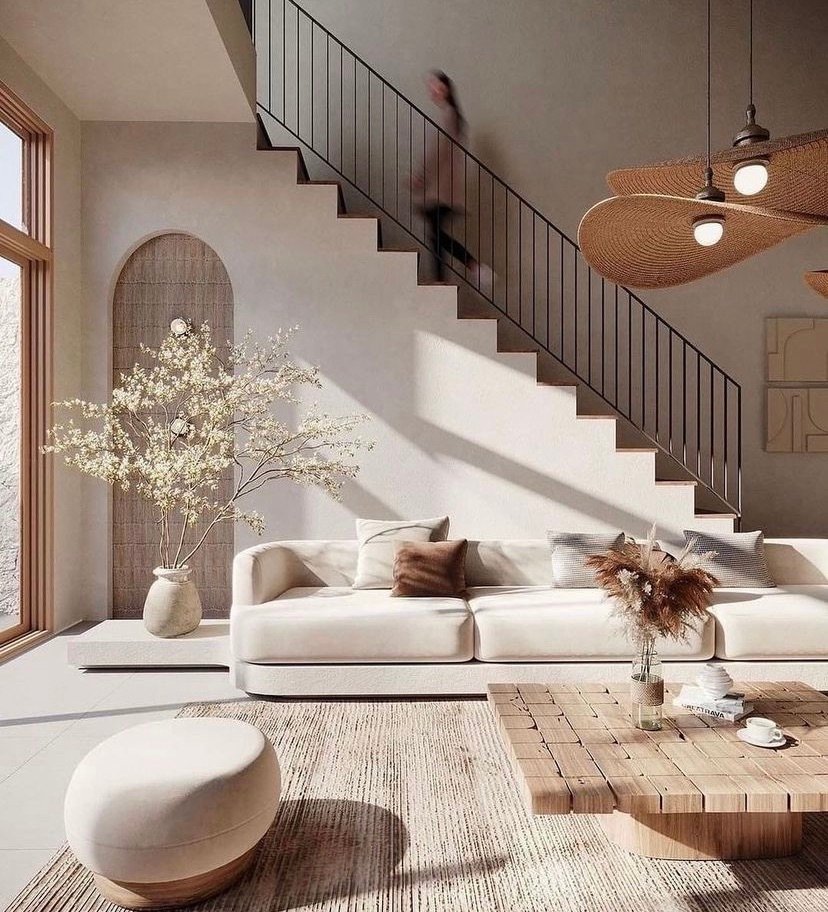 4. LAYER WITH OTHER EARTHY TONES
There are all kinds of tones of beige – thin ecru, buttermilk, biscuit, porridge, vanilla, almond, camel, sand ivory, or eggshell. This gives you an instantly harmonious palette to explore, and when paired with other warm neutral tones, it can create a sumptuous interior.
Play with contrast across these tones, and consider this dark and light scheme for an earth-tone bedroom or living room.
This bedroom design is a perfect example of how an all-neutral space doesn't need to be boring. In this otherwise neutral space, we decided to instantly transform its look with the addition of this beige-toned wallpaper, which was strategically chosen to add warmth, colour, and pattern without overwhelming the small space.
Also interesting: 17 dressing room ideas to inspire a super chic organized closet
5. CREATE A MINIMALIST LOOK
A beige colour scheme is a big part of the modern take on minimalism in interior design. While a true white could make a space seem too clinical and cold, its warm companion, beige, can make a room feel homely, and cosy yet pared back. Add a few meaningful items, and you have yourself, a sleek, elegant, and organized-looking home that embraces warm minimalism.
6. INTRODUCE BEIGE VIA TEXTURE



Decorating with beige doesn't just mean selecting it as a paint, wallpaper, or textile colour. It's a colour that lends itself perfectly to a natural look because many natural materials come in this colour.
Think cane, jute, and blonde woods—all have distinctively different textures that can be layered for a rich and interesting scheme. 'One excellent way to compile an earth tone living room is pairing being with hues from nature. Punctuations of brighter colours found in nature, from mustard yellows to floral pink hues, can help to introduce vivid moments of colour with beige.
7. DRAW ATTENTION TO ARCHITECTURAL DETAILS WITH BEIGE
Have beautiful crown mouldings, eye-catching wainscoting, or wall panelling in your home? Don't let these wonderful architectural features go to waste. Draw attention to them, but do it subtly and elegantly.
Consider painting them in warm neutrals such as beige, so that the soft tone attracts the onlookers, making them notice the detailing without a loud statement. To give the ceiling or wall mouldings more focus, consider painting the skirting white for a nice, crisp contrast.
8. CONSIDER TACTILE PAINTS TO GIVE A BEIGE CHARACTER



Largely, paint choices and options are aplenty, but when it comes to using beige, you want to make sure it looks dynamic and versatile in the space, lifting it, and making it seem eye-catching.
9. TO ACCENTUATE THE SCHEME, BRING IN METALLIC
Introducing hints of metallic is an easy way to bring life and warmth to a beige scheme. Plus, several colours go with gold and silver, and one among them is beige. It is a softer take on white, plus using neutrals with golds is a great way to make the shimmering colour feel like a more natural part of a space. Rich metallic tones can be the perfect way to add depth and sophistication.