Nice to know that there are still people outside with a passion for books. If there is a passion then there should also be a special place for them. Designing a bookcase in your home will be such an encouraging idea to start with, so let's find more about the tips that you need to consider and the different designs you can apply.
Before you choose the design that you want to apply, you need to consider some important points first. For example, you need to determine the number of the books that you need to store in your bookcase, the place in which you will place the bookcase, whether in your living room, bedroom or in your kids room.



The space of the room in which you will put the bookcase should be considered as well, because if you have a small room, then you will need to look for a design that offers extra storage places. Finally you should decide whether you will be using your bookcase for storing books only or you will need to use it for any other purpose like a TV unit for example.
You will be surprised of the number of the designs that you will find, so let me tell you about some of the most popular designs that you can choose from. For traditional designs lovers, the barrister bookcase design is the one for you, it has that elegant traditional style and it also provide enough space for good number of books. It will keep your books away from dust because this design comes with glass vertical doors.



If you are looking for a unique design, the ladder bookcase design is what you are looking for. I guess the name give enough details of the shape of this design. yes, it's shaped like a ladder and each step of the ladder is designed as a book shelve where you can put your books on. This ladder bookcase comes with variety of designs, for example, you will find some ladder bookcases with cabinets or drawers at the lower part.
They also come in different sizes that can fit any room whether large or small. For example, if you have a small corner and you are looking for a bookcase to fill this corner with, a small ladder bookcase is the best you can go for and if you have a large room, you can get couple of ladder bookcases and place them next to each other; the ideas are countless. What makes this design more amazing is that it can be made of wood or metal and the choice will be according to your personal taste.
Interested to know more designs? If yes, then let me tell you about this amazing design called the folding bookcase. This one is for remodeling lovers and for those who love changing the arrangement of their furniture pieces regularly.



This design is so easy to move and it also comes with different sizes to fit all your needs.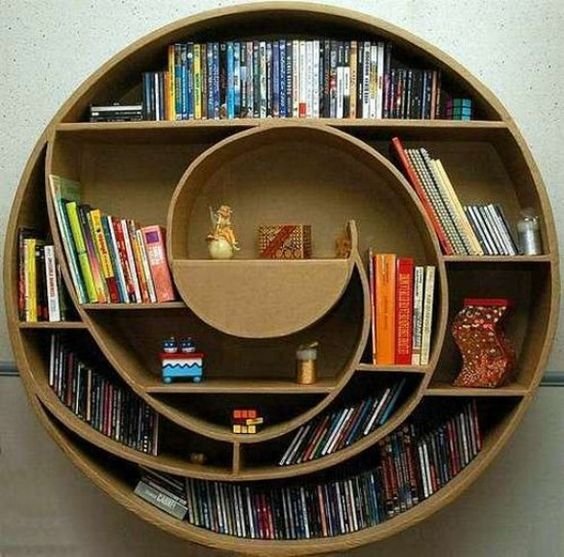 The revolving bookcase is one of the most amazing bookcases designs that you can use in small space, you can even call it a multifunctional piece, wondering why? The revolving bookcase looks like a rounded table, it has a flat surface, but the bottom part is divided into several parts to store your books in. Some designs also come with removable casters, so you can move it easily. It's an elegant antique and in the same time it's such an amazing functional piece to add to your home. That isn't all, the revolving bookcase come in different heights and several levels to store as much books as you want.



If you are looking for smarter bookcases designs for small rooms, so what about the wall mounted design? It will only use the vertical space of your room without occupying any space of your room's floor. You can choose any design you like, you will find some designs that are shaped like cubes or you can go for shelves if you want to get the best use of the space you have.
Just make sure to put your books in a good arrangement to get a neat look. For example, put the big sized books on the shelves that has enough space in between and put the other smaller books like paperbacks on the small shelves. It's so important to consider this point when you choose your bookcase design, in other words choose the one that has several shelves with different sizes to fit all your books.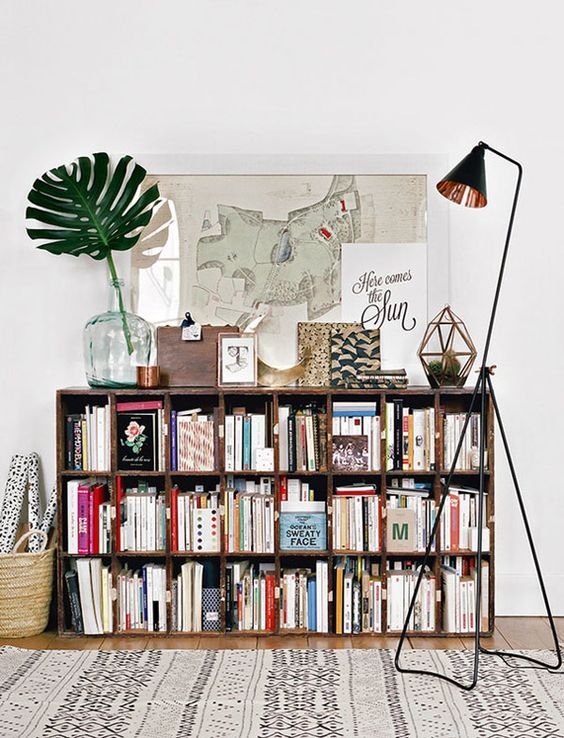 One last thing, make sure to choose a colorful design if you will put the bookcase in your kid's room.



You know colors attract kids' attentions and that may encourage them to read more. Enjoy discovering the world while you are at home with these little sized but great valued things called books.