Whether a walk-in closet or a dedicated room, carving out space for a home dressing room makes getting ready to face the world more efficient, enjoyable, and glamorous. Check out these stylish home dressing rooms in a range of sizes and styles that will help inspire your own boutique-inspired space.
Hang a Chandelier
In this light and airy dressing room, a glittery modern chandelier hanging over the central island creates a focal point. A mix of open and closed storage hides unwanted clutter while leaving plenty of display space for favorite and frequently used items.



Embrace Your Curves
This bespoke dressing room has built-in dresser drawers and open shelving that hugs the room's curves. Roman shades and carpeting add softness, a tall vase of branches adds a natural element, and a vintage-style pendant light anchors the central island, topped in black to match the metal grid casement windows.
Add Color and Pattern



This modestly proportioned galley-style dressing room has a mix of open and closed storage, a top row of woven baskets to hide clutter, and a bold use of color from the runner to the upholstered pouf.
Display Signature Pieces



While dressing rooms tend to connote gigantic wardrobes stuffed with clothes, a dressing room can also be a simple proposition that makes getting dressed feel more intentional. In this small, all-white, light-flooded dressing room space, a slim long chest of drawers provides storage for foldable clothes and accessories, a small vintage stool provides a space to drape a jacket or sit down to unlace shoes, and a simple tension rod provides a place to display a curated collection of beige and golden-toned dresses that look just as great on a hanger as they do on you.
Backlight It



In this well-organized and perfectly symmetrical dressing room, open shelving backlit with LED lighting creates an at-home boutique feel.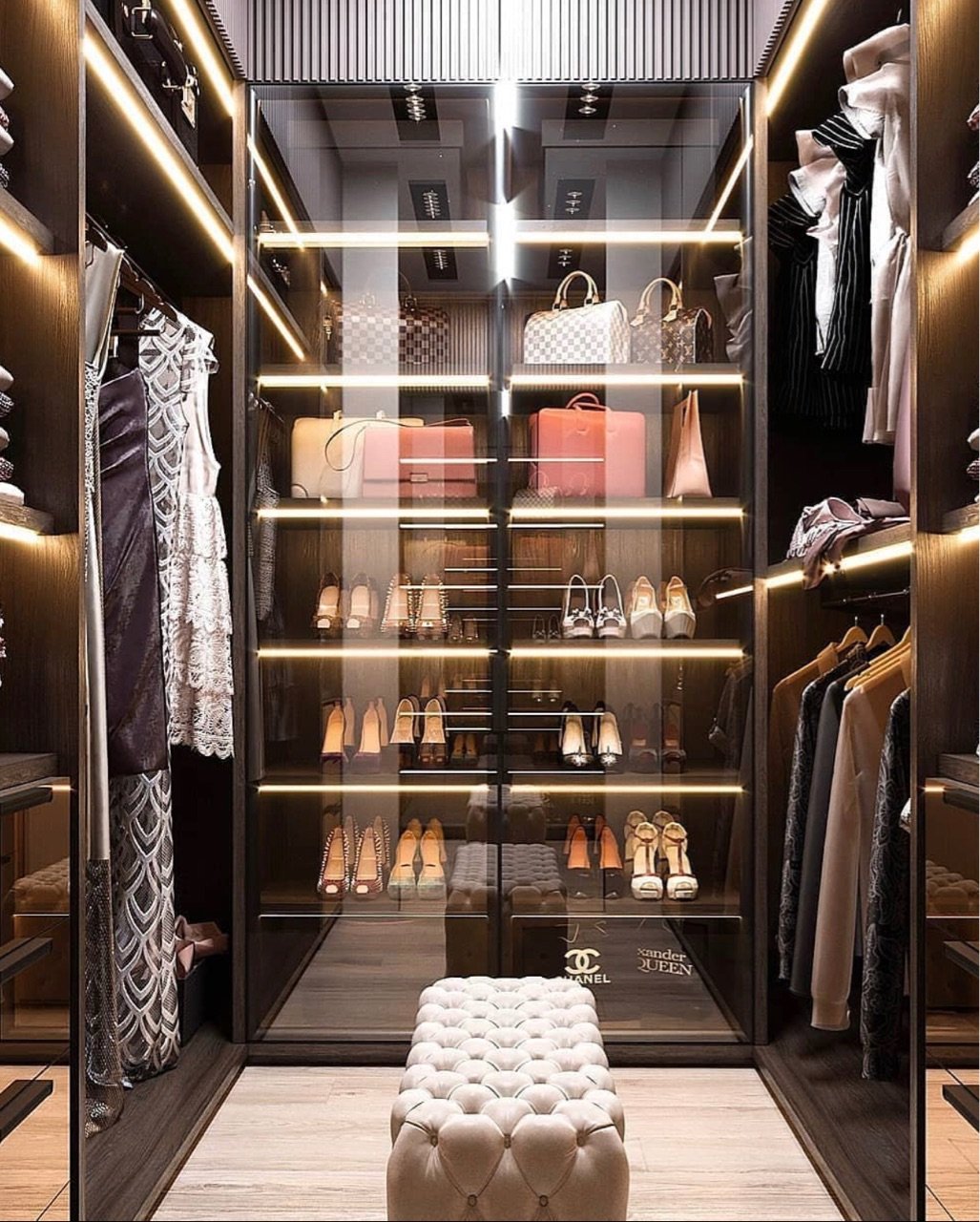 Install a Three-Way Mirror



This luxurious bespoke home dressing room has the air of a boutique with its sleek built-in shelving, plush seating area, and department store-style three-way mirror.
Create a Neutral Base
Blond wood U-shaped built-ins and beige carpeting create a neutral backdrop in this dressing room that allows the pastel rainbow of dress shirts to take center stage.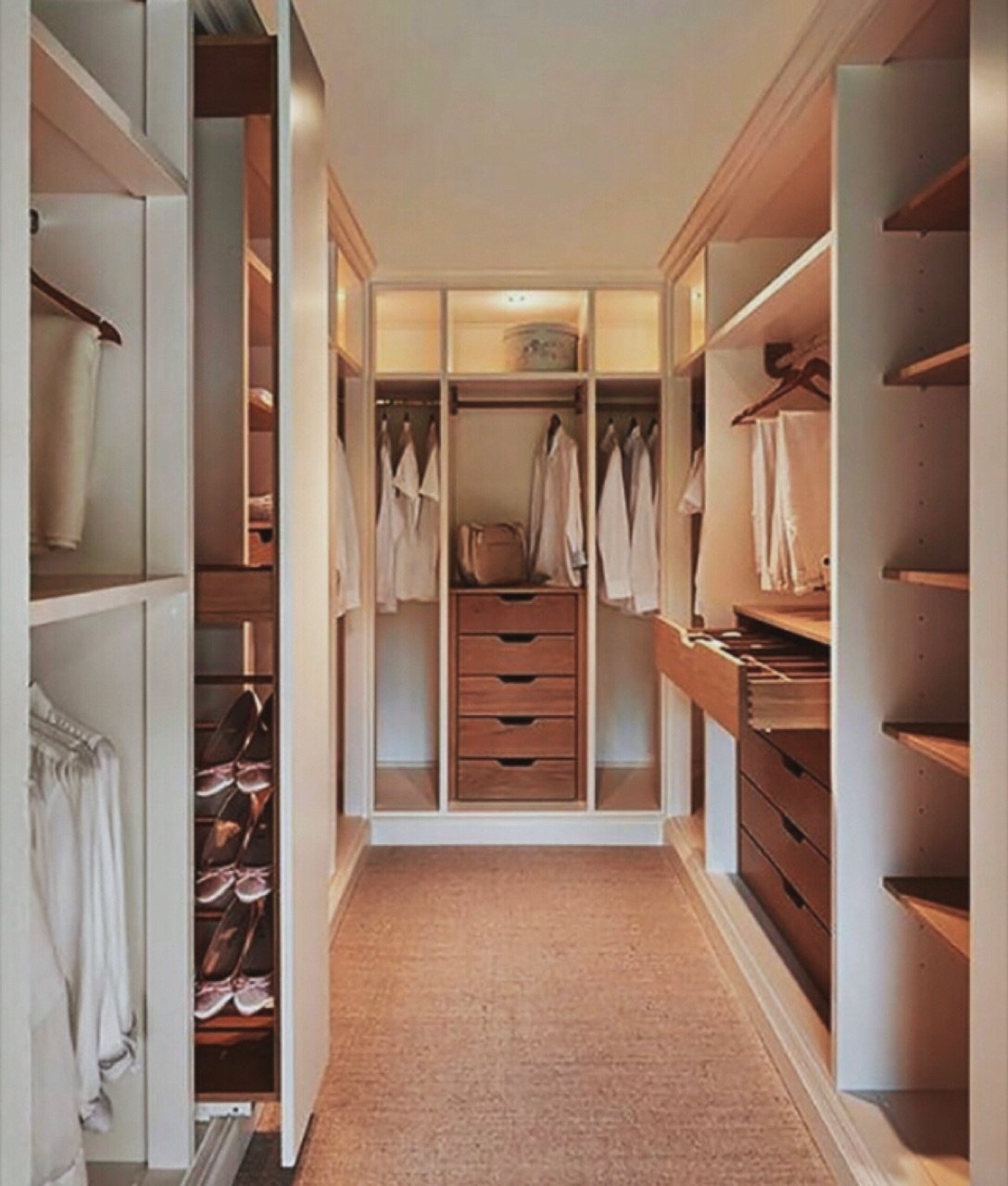 Green the Walls



This serene dressing room has dark green walls that match the adjoining primary bedroom. Tall white-painted wardrobes with Shaker fronts and gold-toned hardware are echoed on the central island chest of drawers. A pendant light with a fabric shade softens the light, and a large standing mirror by the window provides a place to check your outfit before you walk out the door.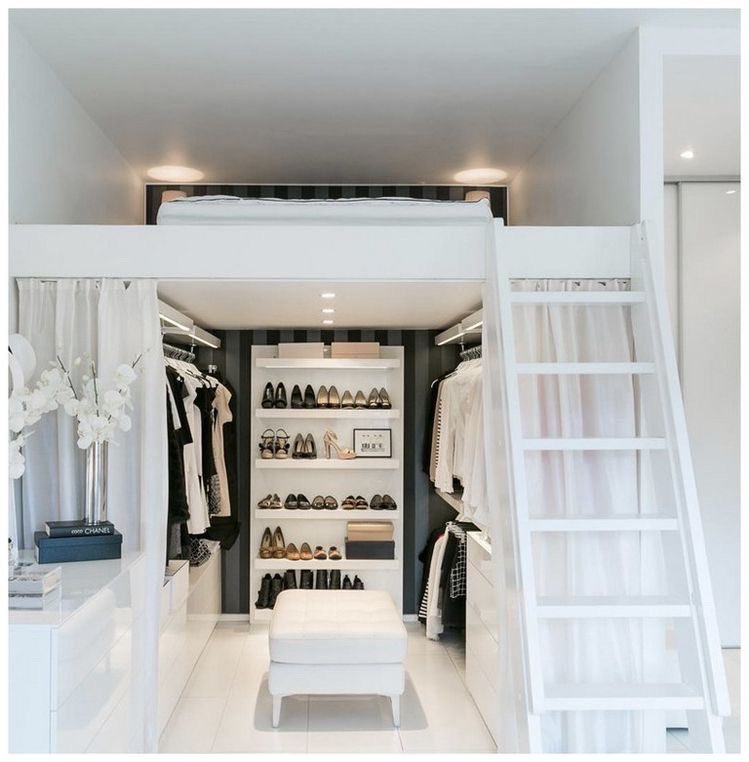 Customize Your Shoe Shelf
In this dressing room, a custom-built wall has shoe storage for flats and heels that runs from the ceiling, and a bottom shelf that accommodates tall boots.
Use Black Storage Units



This streamlined Miami beach dressing room has soft gray walls and light wood floors, but the open shelving and furniture are black, the perfect foil for a colorful wardrobe of multi-hued shirts and footwear.
Go Retro
This dressing room channels retro elegance with traditional furniture, shades of cream, and brass accents.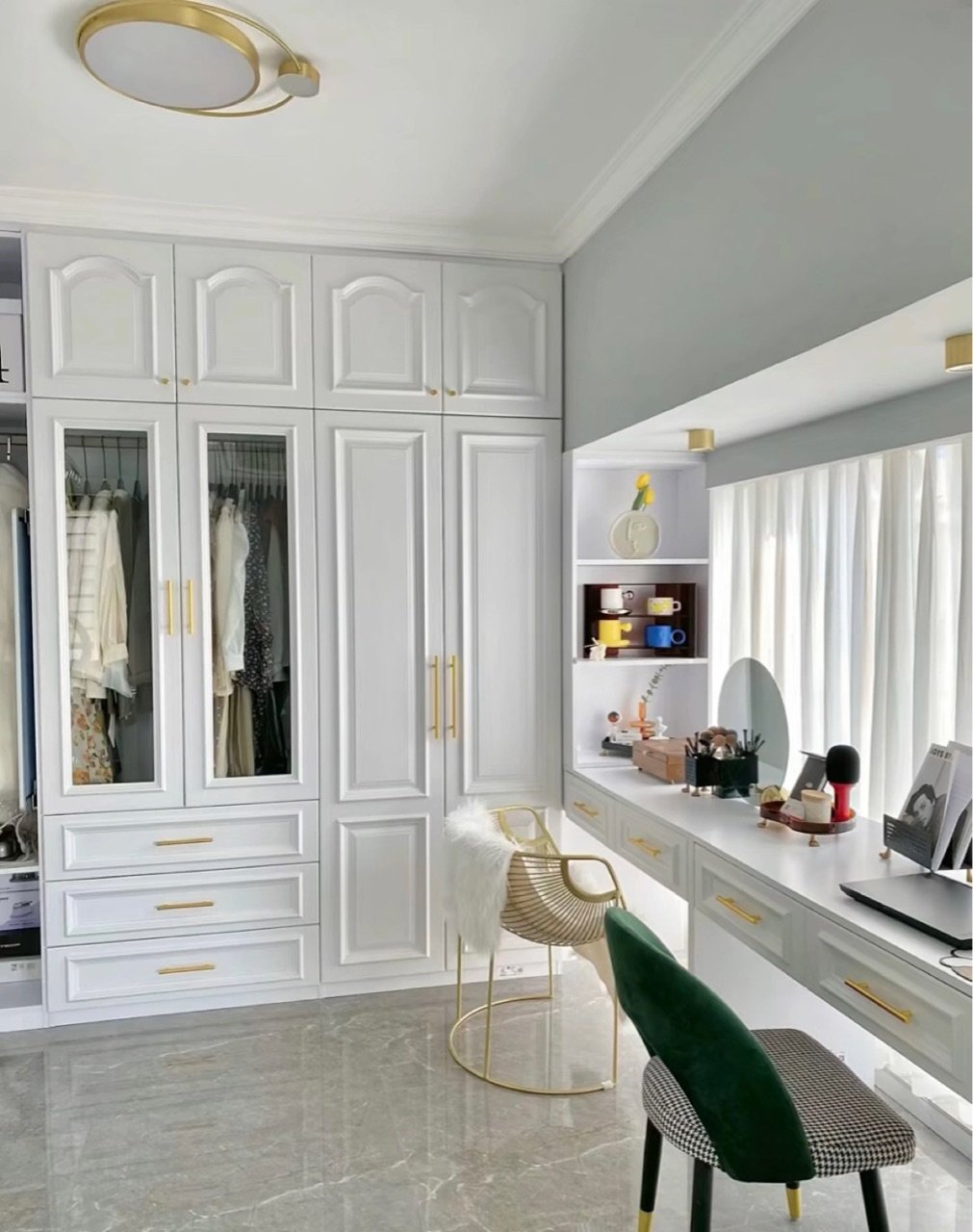 Wrap the Walls



Gray grasscloth walls and a low pile carpet give this Tulsa, Oklahoma dressing room a well-tailored look. A narrow dresser is pushed against the back wall, where a round brass-framed mirror adds light and dimension. Matching upholstered stools provide space for putting on shoes.
Add Mirror Doors
Mirror-front closet doors bounce around the light from the opposite window and help double the space visually in this small but fully optimized dressing room.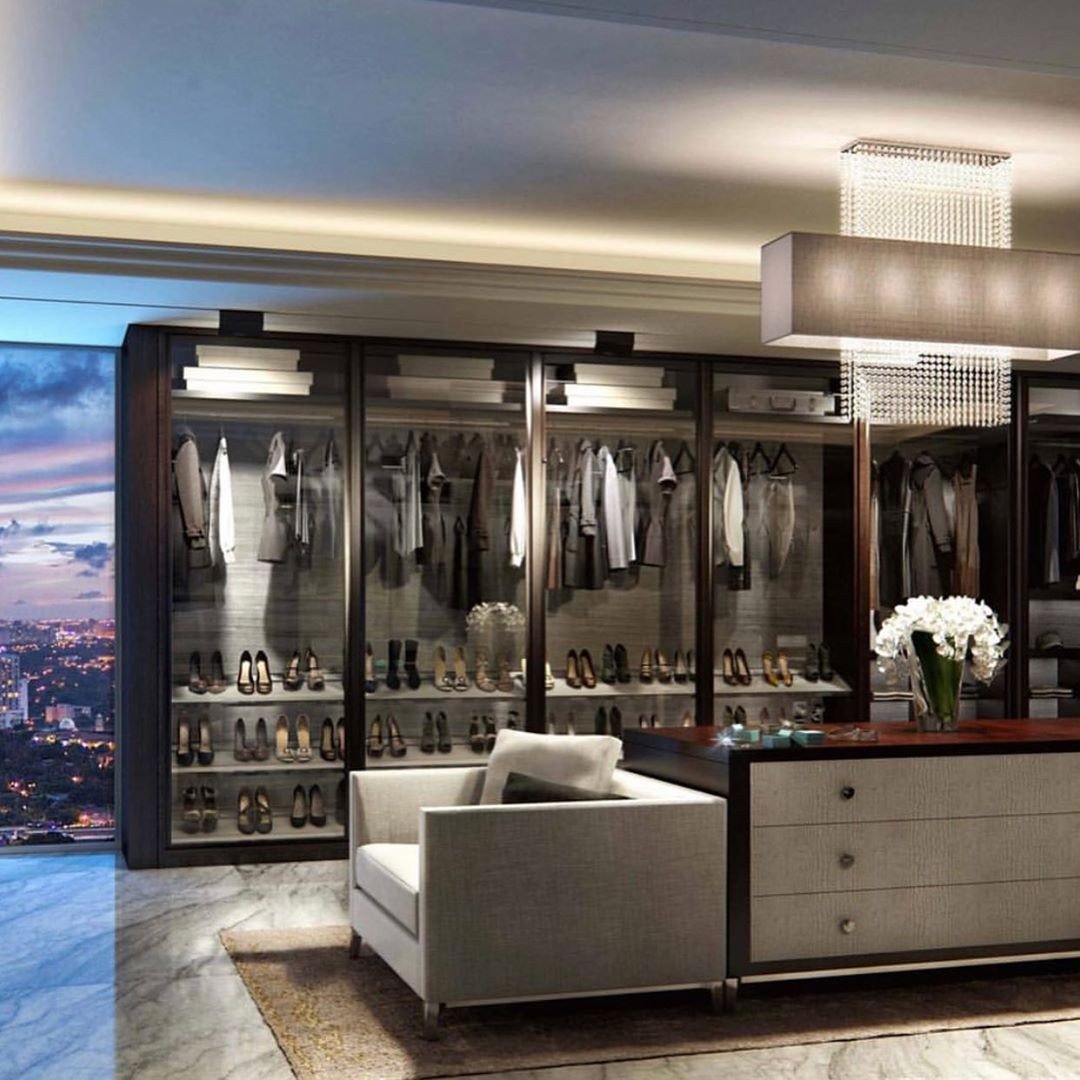 Erect a Trophy Wall



This dressing room in a contemporary New Jersey home has a high window for natural light, a frameless leaning wall mirror, a blingy gold table/bench, and a custom-built wall of open shelving that celebrates a vast collection of colorful sneakers.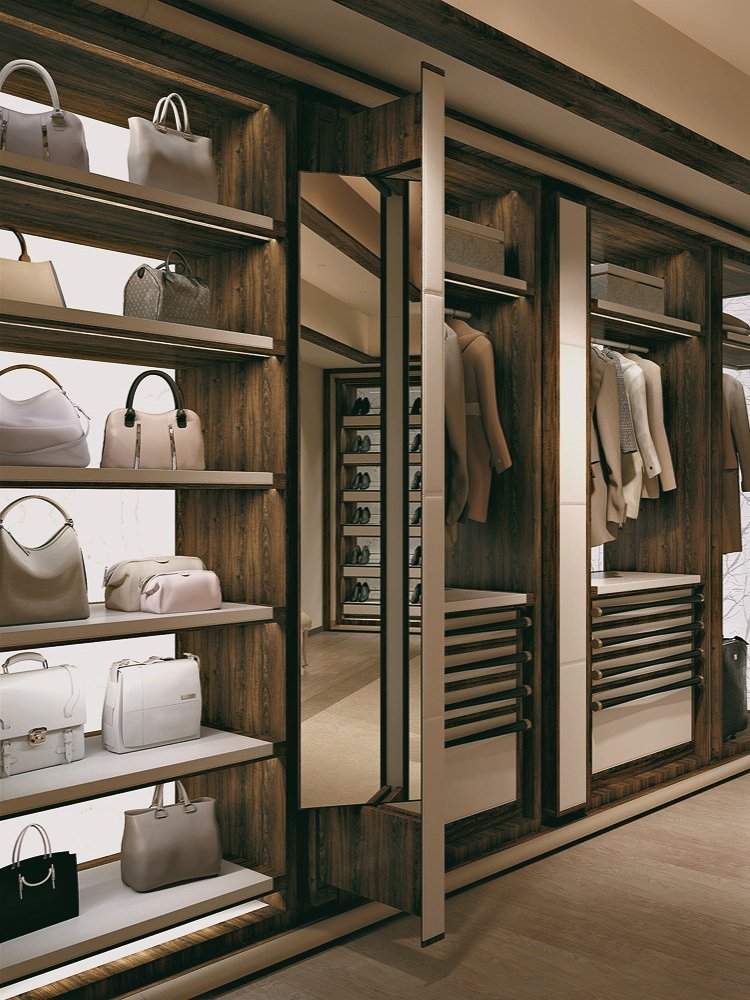 Add Wallpaper
How about converting a spacious primary bedroom closet into a stylish dressing room decorated with beautifully patterned wallpaper, shelving for shoes and accessories, a dresser, and gilded accessories?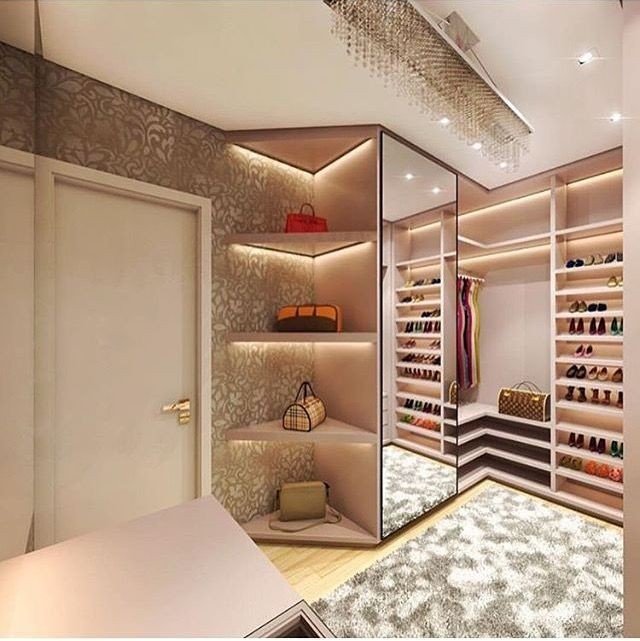 Light the Baseboards



In this spacious dressing room, custom lighting on the bottom of the central island creates the impression that it is virtually floating in the middle of the room.
Include a Window Seat
This dressing room is a grown-up Barbie fantasy with its soft pink walls, blown glass bubble pendant light, copious built-in storage, and a window seat under the arched window that turns it into a place to hang out with friends drinking Champagne before a big night out.
Revamp a Walk-In Closet



You can turn a large walk-in closet into a mini dressing room, adding floor-to-ceiling shelving to maximize space, and rods for clothing, shoes, and accessories. A Persian-style runner, a gold-rimmed mirror that reflects natural light from the bedroom window, and a thrift store rattan chair make it feel like a secret room.
Keep It Open



This bright all-white dressing room uses simple open shelving and a hanging rod to display clothing, shoes, and accessories, and a sparkly chandelier and a few colorful photographs to add some embellishment. This set-up would work either in a dressing room or along one wall of a bedroom for those who enjoy keeping their affairs in order and like looking at their wardrobe.
Leave Some Room



You can maximize vertical space with floor-to-ceiling open shelving that provides storage with room to spare, making clothing and accessories visible and creating an uncluttered feel. The soft, warm brown, and beige tones of the room and wardrobe create a serene neutral backdrop for dressing up or winding down at the end of a long day.