Ideas to save space in small bedrooms
If you live in a flat or an apartment, then the size of your bedroom is probably quite small, and storage space will almost certainly be at a premium. But don't worry, we are always coming up with ideas to help our readers save on space. In this blog article, we look at small bedroom space-saver ideas that won't cost you a fortune.




Small bedroom storage ideas
We couldn't begin a post on space-saving storage ideas for bedrooms and not mention our storage beds. As they can be made to order, there is something to fit everyone's budget too.
As their name suggests, these beds have built-in storage, but you might be surprised to learn that they also have a small footprint, making them ideal for small rooms.
You can also add a headboard without increasing the length of the bed overall. Our headboards can either be mounted to the wall or directly to the bed. They can also be added at any time too, so if your budget doesn't allow for one now, you can add it later.
Storage beds, appear as though they have no storage at all but actually contain a massive amount of storage. The Low storage bed is excellent for tiny bedrooms – it sits low to the ground, so it can provide ample storage without looking like it fills the space in the room.



Using your bedside table for extra storage
Most of us need some form of dressing table area, where we can sit to put on our makeup or dry our hair. Or you might have a desk instead of a dressing table because let's face it, more of us are working from home. If you've got a small bedroom, then why not double-up your furniture, and make your dressing table, or desk, your bedside table?
There's actually a lot of synergy between these different pieces of furniture – more than you might imagine. Your desk and bedside tables probably have a lamp so by combining them you only need space for one lamp.



Likewise, your dressing table is probably near a socket so you can plug in your hairdryer or hair straighteners – and a desk, of course, needs power for a laptop or phone charger.
There are so many things that you would usually put on a bedside table, that you could put on a dressing table or desk, so it makes sense to double them up and save space elsewhere in the room.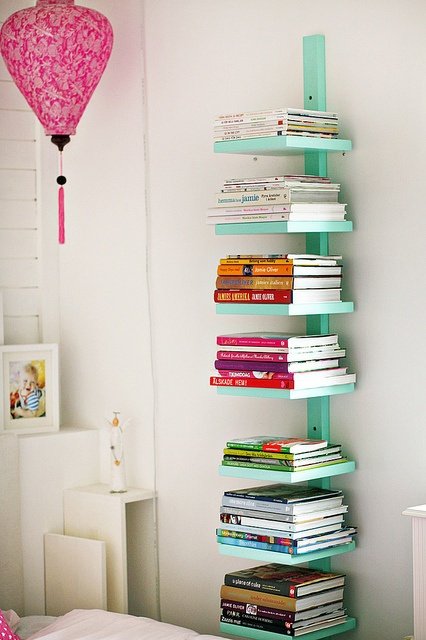 Bedside solutions where floor space is limited



There is always space for something! We don't often talk about Ikea, but they do happen to be a good resource for cheap floating shelves.
If your bed is set in an alcove, you could mount them onto the wall space at the side of the bed rather than behind it. It will then give you somewhere to prop up your book or put your glass of water without knocking it over.
These are picture shelves from Ikea. Although they display books and pictures here, you could also put your glass of water on here or store your phone on them overnight.
Tips for making your bedroom feel bigger
When it comes to bedroom space-saving ideas, you don't always have to remove anything physically. If you've done all you can to streamline your furniture, then it's time to start thinking about how you can create the illusion of space.
Use these top tips to make your bedroom feel bigger.
Declutter your bedroom of all the mess to create a feeling of space instantly.
Use wall mirrors to bounce natural light around the room – this will make a big difference if your bedroom only has one window.
Use your vertical space, and display your plants, artwork, and books on wall shelves.
Dark colours can make a room feel smaller. Keeping your decor light will give the illusion of space without having to remove any furniture.




Don't forget about the space behind your door
There is a lot of space behind your bedroom door, and on the bedroom door itself, so try to make the most of it. If you don't want to drill into the door, then there are coat hooks and storage solutions that actually hang over the door itself.



Perhaps you could store your shoes behind the door, or even all of your bulky coats so that they don't have to take up space in your wardrobe.
Designing a small bedroom can be a challenge but when done correctly, small spaces can still be luxurious too.