The bedroom is the first space we see in the morning and the last one we see at night, but making sure it suits your style can be a difficult task. While some of us might rely on restful hues and a clutter-free policy in order to guarantee the coveted eight hours, others will wake up energized by bold colors and brilliantly clashing patterns.
We've rounded up twenty of our favourite bedroom ideas (and we see plenty of them) to inspire you. One of them could be the bedroom of your dreams…



CURTAIN CALL
The simplest way to split up space is with drapes, which lend themselves particularly well to studio living. Quick and affordable to install, they can still add a serious wow factor – go for chic but understated plain linen, such as in this picture.
Bedroom Ideas to create a cozy atmosphere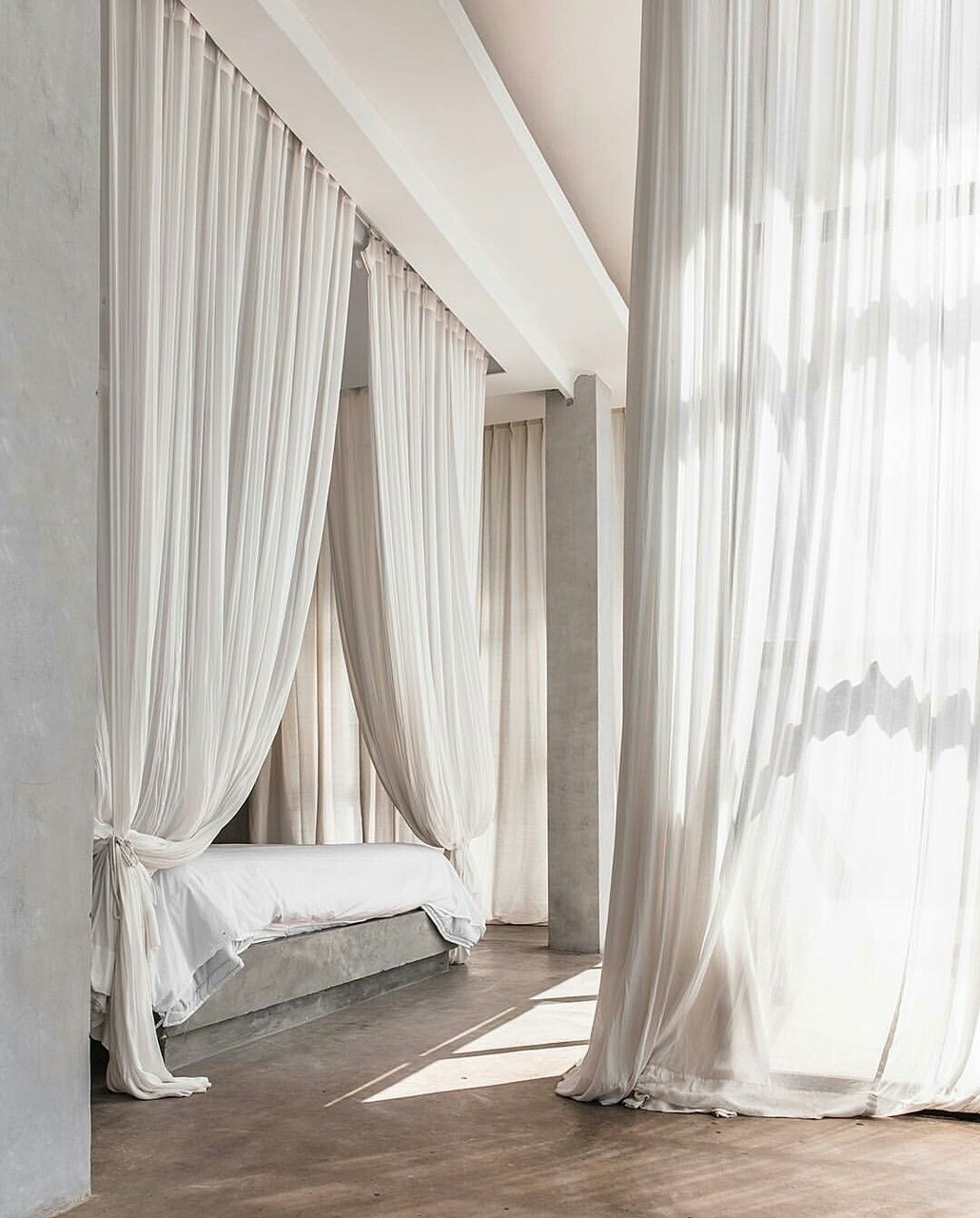 GET INTO SHAPE



Opting for contrasting colors and patterns might not sound conducive to sleep, but this space shows just how well it can work when rooted in earthy tones. The silhouettes of a modern wall are reflected in the expressive quilt.
MELLOW YELLOW



Cheery and supremely liveable, buttery yellows are a brilliantly uplifting choice for bedrooms. Subtleties in shade can make all the difference here, so look towards hues that have a warm, golden undertone, rather than anything that gravitates towards green – it'll feel suitably sunny on long weekend mornings.
TOUGH LUXE



Be inventive with salvaged finds to create a look that's subtly industrial – and wholly original. Here, a mattress rests on old builders' palettes, while a wall of scuffed steel lockers acts as a headboard and a smart storage solution. The layered bedding elevates these time-worn finds to something far more luxurious.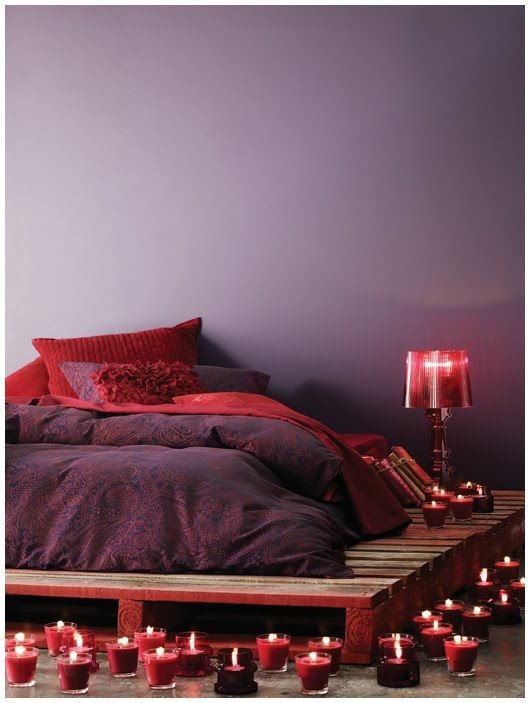 A PLACE FOR EVERYTHING



Built-in storage above the bed went out of fashion years ago – it's often the first thing to go when new buyers arrive – but thanks to attractive bespoke cabinetry like this stylish example, it's enjoying a renaissance. An inset shelf also eliminates the need for bedside tables, reducing visual clutter and maximizing floor space.
SOFTLY DOES IT
Soothing greens, greys, and dusky pinks are go-to shades for good reason. A case in point is this restful space in the penthouse.



AHEAD OF THE CURVE
The headboard is the natural focal point of a bedroom, and with its architectural curves and pop of crimson, this curved design commands attention. Plain but polished fabrics, such as velvets in rich tones, create a sophisticated, timeless effect.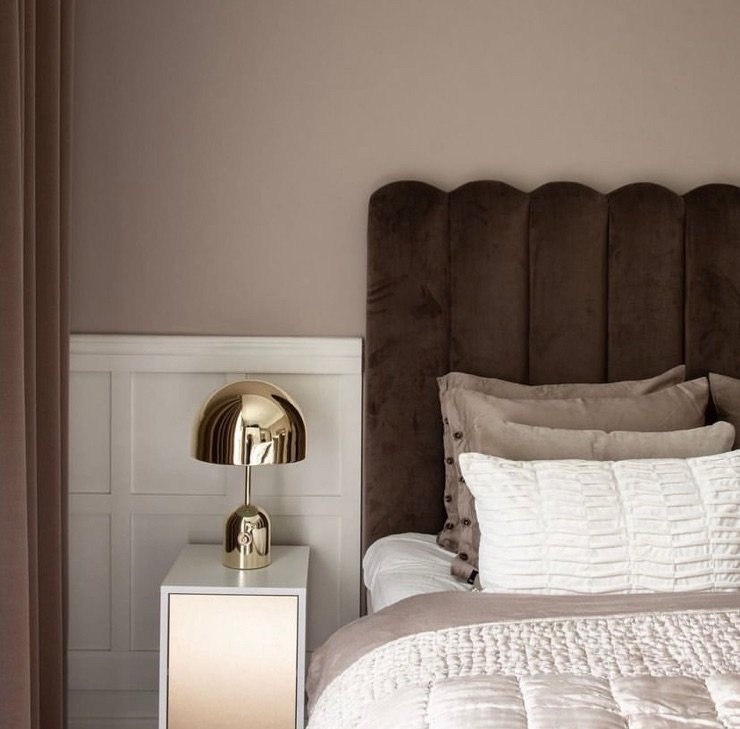 GOLD STANDARD



Brighten up even the dreariest morning with golden accessories. To make this most precious of colours sing, set it against sumptuous blue walls, which make an ideal partner for this vintage quilt and brass spotlight. Even the custom-made white linen curtains have golden corduroy patches sewn in.
CELEBRATE SIMPLICITY
If your home's got bones as beautiful as this farmhouse ceiling, let them shine with a simple, uncluttered configuration. The floral bedlinen inspired by the optimism of springtime brings a hit of verdant colour to an otherwise whitewashed space, while the solo artwork rested on the floor feels brilliantly unfussy.
ALL NATURAL



Layered natural tones let texture do the talking. See the oatmeals and taupes of this impactful space, which work in brilliant balance with the raw plaster wall and the oversized rattan pendant. An artfully arranged spray of dried flowers is a unique alternative to a framed print on the wall.
REWORK THE CLASSICS
Give heritage designs, such as this wallpaper. We love this headboard, it tempers the busyness of the wall-to-wall print.
CLASSIC ELEGANCE



Soft grey tones set a relaxing atmosphere for sleep. In this room, the bed is dressed in linen which will only get softer over the years. Paired with white walls and floors, plus a Parisian design classic in the form of a wall light, it's an effortlessly chic approach that feels calm and considered.
GO GREEN



Biophilia speaks to our innate desire to be surrounded by greenery, and placing a selection of verdant houseplants beside the bed ensures nature is the first thing we see before we go to sleep and when we wake up. Choose varieties with air purifying qualities for extra bedroom benefits.
DREAM IN OMBRÉ



If you are a little shy when it comes to bright colour, green is a good entry into more confident bedroom styling. Instantly calming because of its associations with nature, it is made even more palatable when presented in an ombré effect.